Issey Miyake
1976年にISSEY MIYAKEのパリ・ウィメンズコレクションと共に発表され、1978年にブランドとしてスタートしました。1985年秋冬コレクションよりパリ・メンズコレクションに参加。2012年春夏コレクションからブランド名をISSEY MIYAKE MENと改称し、現在に至ります。 ブランドのものづくりの精神を継承しながら、機能性と着やすさを基本に、伝統と最新の技術を融合した服づくりを続けています。
This collection was launched along with the women's line in 1976, and became a brand of its own in 1978. It presented its first collection in Paris Men's fashion week in AUTUMN WINTER 1985. The brand's name was changed to its current name, ISSEY MIYAKE MEN, with the launch of the SPRING SUMMER 2012 collection. Carrying on the brand's creative spirit and based on the core concept of functionality and comfort, the team integrates traditional and new techniques to create clothes.

Issey Miyake Men 80s Salary Man Blazer

---
SIZE
MEDIUM
Chest: 52 cm
Shoulder: 45 cm
Sleeve: 59 cm
Length: 80 cm

---
MATERIAL
100% COTTON




---
YEAR
80s




---
CARE
COLD WASH. AIR DRY. DO NOT BLEACH.




---
Issey Miyake
1971年、ニューヨークで初めてのコレクションを発表。1973年秋冬シーズンからは、パリでコレクションを発表しています。三宅一生の服づくりは、当初から今日に至るまで「一枚の布」という考えに貫かれています。それは東洋・西洋の枠をはずし、身体とそれをおおう布、その間に生まれるゆとりの関係を根源から追求するものとして、世界中で大きな驚きと共感を得てきました。多くの人材や革新的な技術を生み出しながら、1本の糸から研究しオリジナル素材をつくることから始まる服づくりは、世代を超えて現在も引き継がれています。2020年春夏コレクションからは、デザイナー近藤悟史が担当。豊かな発想を活かし現代における身体と衣服の関係を探求しています。
ISSEY MIYAKE's first collection was launched in New York in 1971, and began to be shown in Paris Fashion Week from AUTUMN WINTER 1973. From the very beginning to this day, Issey Miyake's design has focused on the concept of "A Piece of Cloth". ISSEY MIYAKE broke the boundaries between East and West and pursued "the body, the fabric covering it and a comfortable relationship between the two" as a fundamental concept, both shocking and resonating with people the world over. ISSEY MIYAKE has grown to include a vast number of creative personnel and innovative new techniques, but its core design style - creating clothes from original materials starting with the research of a single thread - has transcended generations. The brand is led by designer Satoshi Kondo since SPRING SUMMER 2020, as it explores the relationship between the body and the clothes with creative ideas for modern women.

Crossover Pants

---
SIZE
Waist: 68 cm (elastic band on back of waste)
Hip: 59 cm
Thigh: 40cm
Rise: 20.5 cm
Inseam: 68 cm
Hem: 16.5 cm

---
MATERIAL
100% WOOL




---
YEAR
90s




---
Issey Miyake
90s Flower Tie

---
SIZE
Width: 8.5 cm
Length: 144.5 cm



---
MATERIAL
100% SILK




---
YEAR
90s




---
CARE
DO NOT BLEACH. DO NOT IRON. DRY CLEAN ONLY.




---
Issey Miyake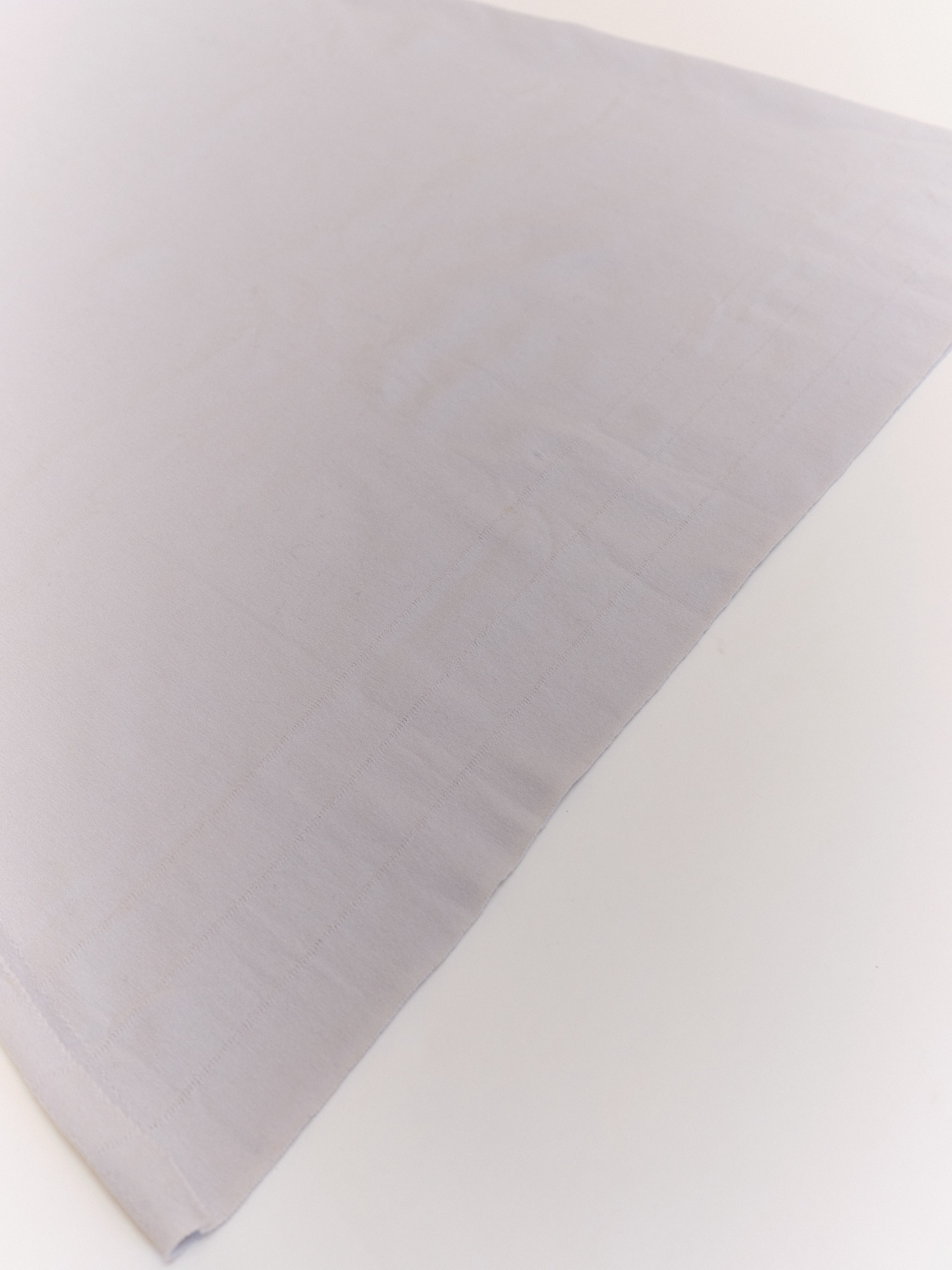 Issey Miyake Fete Classic Long Skirt

---
SIZE
2
Waist: 32 cm (elastic band)
Length: 85.5 cm


---
MATERIAL
60% NYLON
36% COTTON
4% POLYURETHANE


---
YEAR
1998




---
CARE
DO NOT BLEACH. USE COOL IRON. DRY CLEAN ONLY.




---
Issey Miyake
2007年から取り組みを開始した新しいものづくりの成果が、2010年よりブランドとしてスタートしました。ブランド名には、一枚の布(1次元)から立体造形(3次元)が生まれ、折りたたむと平面(2次元)になり、身にまとうことで時間や次元を超えた存在(5次元)になるようにとの思いが込められています。 基本素材には改良を重ねて開発した再生ポリエステル生地を用いて、現代のものづくりへのメッセージを込めました。

From the collection 132 5. ISSEY MIYAKE presents his classic folded flat design. The collection was a result of new manufacturing started in 2007, and then later as a brand in 2010. In the brand name, a three-dimensional model (3D) is born from a piece of cloth (1D), and when folded, it becomes a flat surface (2D), and by wearing it, it becomes an existence that transcends time and dimensions (5D). The idea is to become. The basic material is recycled polyester fabric, which has been developed through repeated improvements, with a message for modern manufacturing.

Issey Miyake L Shaped Slip Dress

---
SIZE
2
Short Length: 78 cm
Tall Length: 116 cm


---
MATERIAL
52% ACRYLIC
48% CUPRA



---
YEAR
SS 2013




---
CARE
DO NOT BLEACH. USE COOL IRON. DRY CLEAN ONLY.




---